If you're into list building… but would like things a little easier… We've some Good News!
"Discover How To Build Your Email Subscriber List The Simple Way And Bank More Profits By Working Less!.."

Watch the short video below to see how smart marketers really build targeted mailing lists:

Click PLAY & Turn Up Your Speakers

When you need to add more profits to your bottom line building a bigger, more responsive list of email subscribers and fresh prospects is the fastest and easiest way to do it…
The sad truth is… the majority of online marketers that fail, (and over 90% do), is because they just didn't 'get' how important list building and developing a relationship with their subscribers actually is… But you're smart and already know that guys who land on the top of the pile are the ones prepared to devote a big chunk of resources into getting people to join their email lists.
List building is the backbone of every business. I'm sure we agree that building a targeted subscriber/email list is one of the most important tasks any business owner can undertake… Unfortunately, these days a simple sign-up form on your webpage isn't enough…
… Web visitors are increasingly reluctant to part with their information and without a really good incentive they'll just leave without so much as a second glance at your opt-in form
"Lead Magnets" are the answer!
"Lead Magnets" are free products or low-cost information product (ebook, checklist, template, piece of software, video, etc.) that you offer as "ethical bribes" or incentives to encourage and persuade people to give you their email address and possibly other information in exchange for that product. It's that simple. You can also offer them to existing subscribers to boost engagement or better segment an established list.
However you use them, good lead magnets generate sales and put money in your pocket.
The problem is that most website owners take way too long to create lead magnets… They simply hate the process of creating them or they create incentives and freebies that flat-out don't work.
Creating an expertly researched, professionally written 'lead magnet' is not easy. Along with your research and writing team, you'll also need to hire a designer to create eye-catching cover graphics and a copywriter to craft the copy on your squeeze pages.
But don't worry…
You don't have to create a lead magnet yourself, we've already created it for you!
It's called…
"Monthly PLR Lead Magnets Package"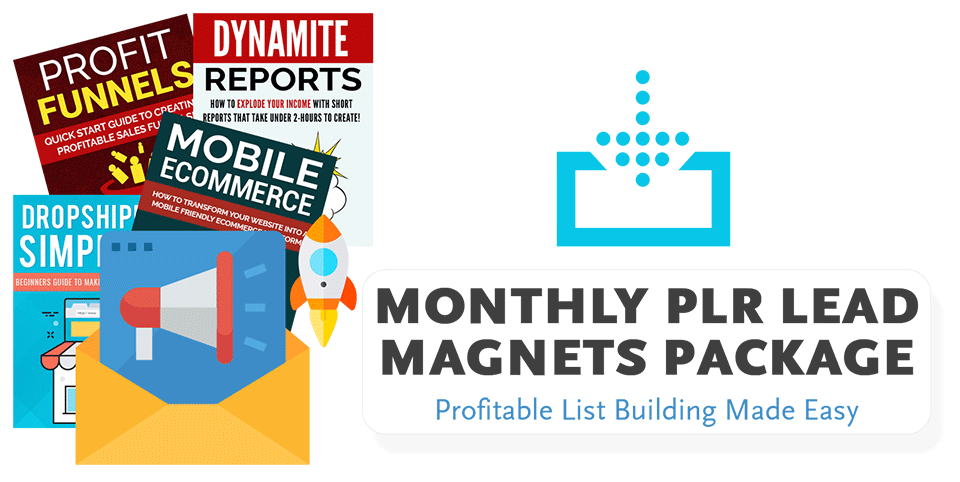 (and it's the real insider 'secret' many top names in our industry use every day to their advantage)
Even better, right now we're offering download access to smart marketers just like you…
That means instead of investing thousands of dollars and months of hard work doing it all yourself, you can join the membership and simply start building your list today!
Here's What You Get With This Package
MODULE #1: Two Exclusive Done-For-You Lead Magnet Funnel Kits With PLR Every Month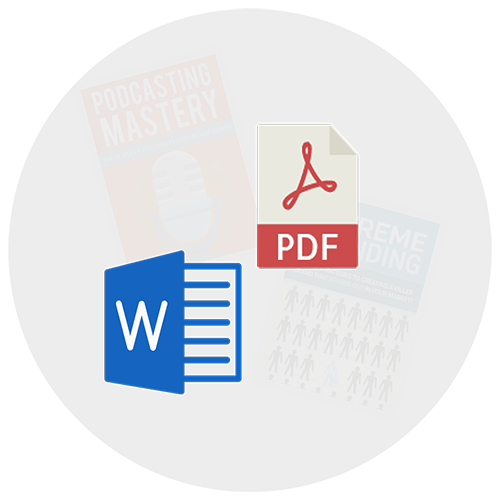 Every month you'll be able to download TWO BRAND NEW EXCLUSIVE fully editable, professionally written list building reports in Word Docx format along with a ready-to-go PDF version (these reports would cost them at least $100-$200 each to outsource so great value). These are 100% original creations just for our members to use and profit from. We make sure to give you reports you can use that will wow your email subscribers and make you look like a BOSS in the process. You cannot find these available elsewhere.
You are the ONLY one who will ever have editorial rights to these reports. This means you can brand them to make them your own, edit the content, promote your own products or affiliate programs inside them, and do just about anything else you like with them except claim copyright. (see full license details further down this page)
MODULE #2: Pro Designed Squeeze Pages & Graphics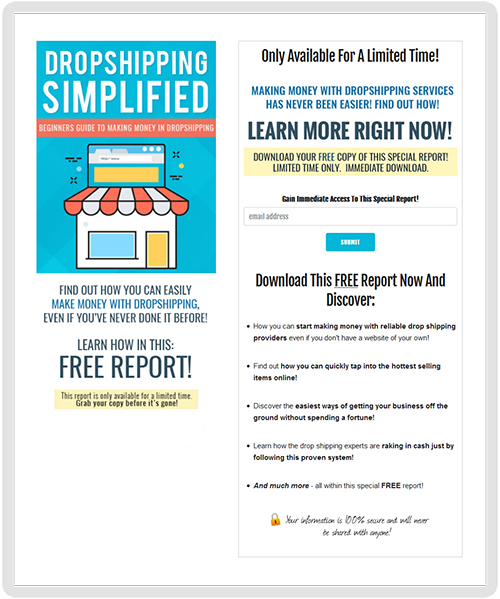 Example Squeeze Page Preview
You no longer need to worry about writing your own marketing materials. We provide you with ready to upload, lead sucking squeeze pages with pro-quality graphics (includes editable PSD file and save them hundreds of dollars each month) – One page per lead magnet kit (2 kits per month)
MODULE #3: 7 Part Autoresponder Email Series Per Kit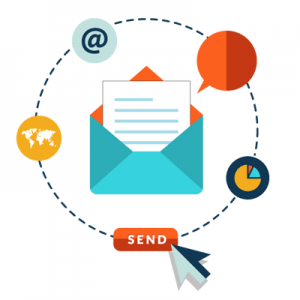 Each lead magnet kit comes with 7 Copy/Paste follow-up emails ready to be added to the autoresponder of your choice and follow up with new subscribers. These are all ready to just copy and paste from notepad into your favorite autoresponder system. All you need to do is add your name, add your affiliate ID to the affiliate links, save it as a PDF, upload everything and start sending traffic to your squeeze page!
MODULE #4: Full Back-Catalogue Access (Now Over 256+ Packs)
You will have complete access to ALL our private label rights lead magnet reports we've ever released since the year '2010' when you become a member. Just check out the sheer amount of PLR products you'll get your hands on… Click here!

What Can You Do With These Lead Magnet Packages?
We encourage you to use them as incentives to build your subscriber list and promote your offers and affiliate offers through them. (Set up your provided squeeze page and offer them free to new subscribers.)
5 Ways you can use Monthly PLR Lead Magnets Package for your Business Today:
Use them as Lead Magnets for New Prospects

Free downloads to nurture your existing list and test your funnels

Turn the Content into Blog Posts and Re-Engage your Audience

Use The Email Content as Social Media Posts that lead to your landing /opt-in page

Rebrand and sell the ebooks
What Our Customers Say About Us
---
"Super Easy to launch and use!"

I am just gob-smacked with my new PLR Lead Magnets Membership with two complete marketing packages each month, as well as total access to all previous month's downloads as well!
All the packages are set up in such a way that it's just so easy and simple to launch your next Marketing Campaign! Well done, you have created a real goldmine for us all… right here!
~ Donald Foster
www.myallmarketingneedsstorefront.com
"The Right Answer is here"

I started building my business 2 weeks ago. I had bought many products, registered to many sites, downloaded truckloads of stuff. I had forgotten all the incredible products you guys build.
I was searching elsewhere for THE ANSWERS to build my business and generate traffic. But all the answers are here with your products. Your products are among my first priority to use.
In the past, when I needed support, you responded lighting fast. And I even noticed it would be easy to cancel anything if I wanted to. Why would I ever want to do that? Thanks a lot!
~ Philippe Moisan
www.where-success-begins.com
"Support is awesome!"

If you have been "spinning your wheels" trying to find the right people to give you the heads up on what to do to build a profitable email subscriber list then you need to look no more. They will teach you and offer you every service resource and support you will ever need.
Thanks a million, times over guys, you truly are the gurus we all need. Here's to the success and guidance you bring to all your people. thanks…
~ Emma Powell
www.passivewealthceations.com
"Ticks The Boxes"
I've been a member for over a year now and I have downloaded, used many of these reports and have always found them to be of very high quality. Each of these packages always contains everything that 'ticks the boxes' when you look for good quality lead magnet reports.
~ G. Linge
---
How Much Would This Cost You To Produce Yourself?
Look at this conservative cost to outsource just one package:

At the current sale price for "All Access Pass" to this package, you can't pass it up. You'll never find a package like this or as complete as this anywhere else.
Don't Miss This INCREDIBLE Opportunity Because Every Smart Business Builder Needs A List!
As a "Monthly PLR Lead Magnets Package" member, you'll be among the elite in marketing who can effortlessly build targeted mailing lists that are BURSTING at the seams with hungry and loyal buyers.
Act now and eliminate all the hard work and monthly costs of creating your own content!
7 Reasons Why You Should Say 'Yes' To This Offer Today:
#1: Exclusive Content
Some 'Done For You', copycat sites give their members rehashed or non-exclusive content. Our reports are all 100% unique and exclusive to the membership so you can be always confident of great quality.
#2: High Conversions
We provide you with ready-to-use squeeze pages designed by the best in the business… Don't waste time sending valuable traffic to pages that don't convert – Ours do!
#3: More Flexibility
You get flexible private label rights terms which means you have more ways to get the most from the reports. Sell them, give them away, use them as bonuses, and much more – it's your choice!
#4: No Monthly Fees
Regular members pay as much as $47 per month for access to the site but through this special offer, you won't! You can grab lifetime access plus full access to the back catalog for just pennies on the dollar.
#5: No More Research
Hey, who likes spending hours and hours every month uncovering hot topics and finding quality products to promote – No one. Now you can eliminate the guesswork and let our research team do it all for you – It's free and all part of the service.
#6: Big Time Savings
Some sites give you inferior reports and poor quality promo tools and stop there. Not here… In addition to your reports you also get full follow-up email series ready to just paste into your autoresponder. A true 'all in one solution' with no extra hassles!
#7: Free Up Your Time
To do this yourself each month would take around 7-10 full days – And outsourcing (even at low rates) would cost over $1000 or more. So unless you are rolling in cash or have way too much time to spare, this membership is the only genuine solution!
Here's A Quick Recap Of This Value Packed Offer…
WHAT DO I GET INCLUDED? Every month you'll get two new lead magnet kits that include all of the following: A 10-40 page exclusive (marketing / web business / social media related ) report, a ready-made landing page, and a professionally written 7 part autoresponder follow up series + Back Catalog Access With Ready To Go Packages.
256+ LEAD MAGNET PACKS READY TO START USING RIGHT NOW!
HERE ARE JUST A FEW SAMPLE TOPICS COVERED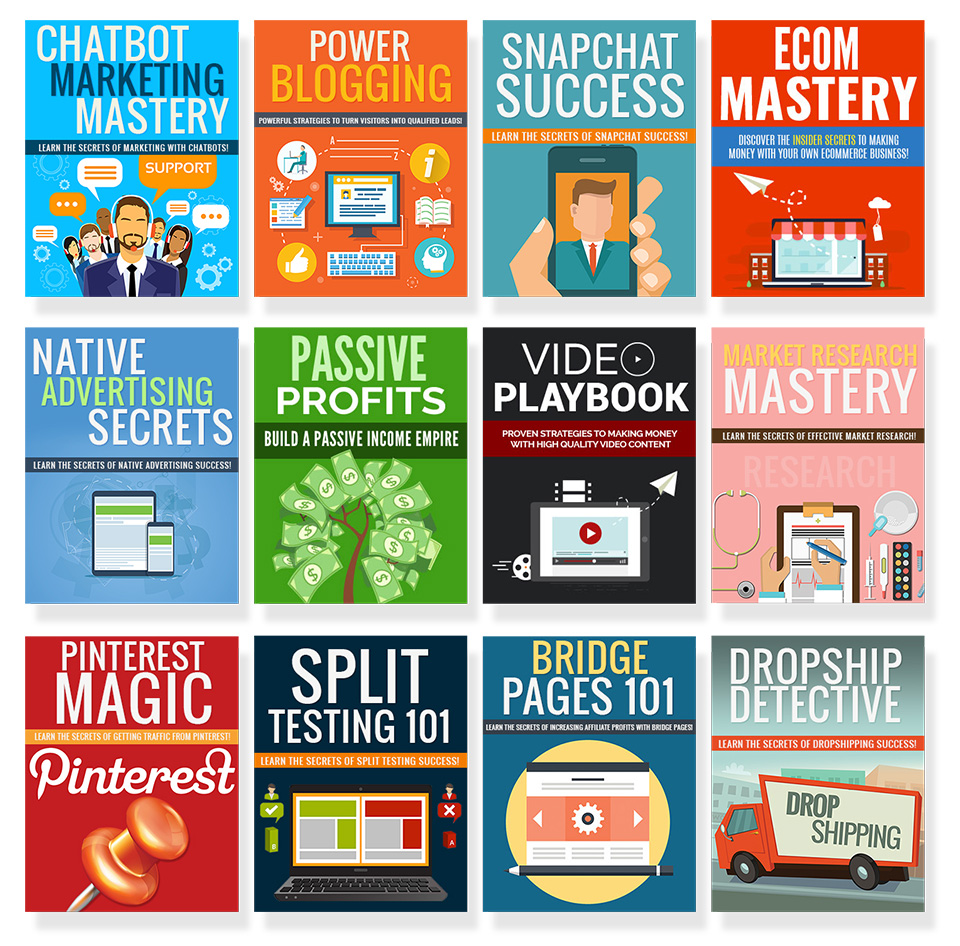 CLICK HERE TO VIEW ALL PRODUCTS
WHAT CAN I DO WITH THE REPORTS? You can sell them or give them away (except for the raw Docx formats… editable content PLR is exclusive to you) – So use them as incentives to build your list, to use as bonuses to boost your own product sales, or to increase your sales & commissions on affiliate promotions.
CAN I GIVE THE REPORTS AWAY FREE? Yes we encourage you to brand yourself and more get traffic and clicks to your offers by distributing your reports any way you want to (all we ask is you do not redistribute the raw / source documents.)
CAN I SAY I WROTE THESE MYSELF?

Yes! Through your membership, you get full private label editorial rights so you can add yourself as the author, edit, add to, rename – whatever you need.
ARE THESE REPORTS ORIGINAL CONTENT? Yes, all packages are created by our own in-house team, and they aren't available anywhere else online. Some 'done for you', copycat sites give their members rehashed or non-exclusive material – not at Swabd.com, everything is 100% unique so you can be assured of great quality.
As you can see, if you tried to do this all yourself you're looking at days and even weeks of your time just getting one of these ready-made packages together.
If you outsourced this yourself you'd be looking at anywhere from a few hundred to a few thousand dollars of your hard-earned money every month.
We both know you have better things to do with your precious time and hard-earned money right?
For just a one-time payment you can let us do all the work for you so you can just focus on building your list and profiting more from them.
But here's the catch, we do plan on limiting membership to this service simply because we don't want the marketplace to be flooded. We also want to provide the best service to you so by keeping a lower number of members we can focus on helping you grow your business better.
After we reach a certain number of members this offer will be closed.
After completing your registration there's no need for you to wait weeks for your product to arrive in the mail, you can download these packages in less than five minutes from now.
We're really looking forward to working with you and hearing about your success. And we're confident that armed with these list building packages you will save yourself countless painful hours of doing it all yourself and or spending thousands of dollars outsourcing it all.
Everything inside is ready and done for you!
Join The Membership Now With $Zero Monthly Fees And Get Instant Access To "256+" Lead Magnet Packages + All Future Updates
Limited Time Offer
Regular Price: $297
Today Only: $197 $97

SAVE $100
One-Time Payment
☑ I agree with the terms and conditions.


It's going to help your business out by SAVING YOU TIME & MONEY – And we're guaranteeing it, so hit the 'Order Now' button above right now and we'll see you on the inside…
Frequently Asked Questions
Q: Are these Lead Magnet PLR packages unique?
A: Yes, all packages are created by our own in-house team and they aren't available anywhere else online.
Q: Can I giveaway the reports or sell them?
A: Both! We encourage you to use them as incentives to build your subscriber list and promote your offers and affiliate offers through them (set up your provided squeeze page and offer them free to new subscribers). The only thing you cannot do is give people access to the source documents and files (these are for your own personal use).
Q: Can I say I wrote These?
A: Yes you get full private label editorial rights so you can add yourself as the author, edit them, add to them, change the graphics, rename them whatever you need.
Here are the license terms of the editorial rights for each report you get
You can:
You Can Use This Product Yourself

You Can Sell This Product at a Price Point Determined by You.

You Can Give Away The Product (NOT The Source Code Files) To Your Subscribers, Members, or Customers as a Bonus or Gift.

You Can Add This Product to a Membership Site or Bundled Within a Product Package as a Bonus (NOT The Source Code Files)

You Can Modify the Product Anyway You See Fit To Add/Remove Content or Make It a Brand New Unique Product, Break It Up Into Articles, Email or Online Course Lessons.

You Can Rebrand, Rename, Redesign The Product and Create New Graphics to Call It Your Own.
You cannot:
You Cannot Give-Away, Sell or Transfer the Editorial Rights to Any Third Party – Example: You Cannot Give Away The Word Document (ONLY PDF).

You Cannot Claim Copyright.

You Cannot Sell Private Label Rights, Master Rights, or Resell Rights to this Product in any form.


Home | Products | Terms of Use | Privacy Policy | Contact Us
Copyright © , Swabd – All rights reserved worldwide.
​All trademarks and logos are the property of their respective owners. This site and the products/services offered are not associated, affiliated or endorsed by any business listed on this site nor have they been reviewed tested or certified by any other company.